Reverend Dr. Andrew Teal Joins the Maxwell Institute as Fall 2021 Visiting Scholar
Reverend Dr. Andrew Teal of Pembroke College, Oxford University, will join the Neal A. Maxwell Institute for Religious Scholarship as a Visiting Scholar for the Fall 2021 semester. Rev. Dr. Teal is an expert in theology and is a longtime, invested interfaith bridge-builder. In 2020, he published a book entitled, Inspiring Service: Catholic, Anglican, Methodist, and Latter-day Saint Traditions in Dialogue with several co-authors, including Elder Jeffrey R. Holland of The Church of Jesus Christ of Latter-day Saints' Quorum of the Twelve Apostles.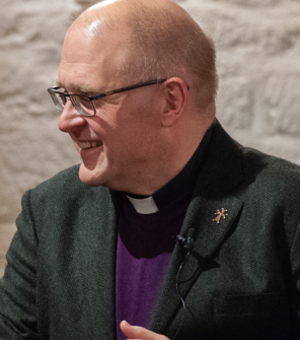 Reverend Dr. Teal became more familiar with Latter-day Saints after meeting Elder Holland, who delivered a series of lectures at Oxford. The two became fast friends thereafter . That friendship eventually led to an invitation from the Latter-day Saint Apostle to Rev. Dr. Teal to speak at BYU. During Rev. Dr. Teal's visit to Provo in 2019, he visited the Maxwell Institute and participated in its first "Inspiring Learning Student Seminar." He was struck by what he experienced with the Institute's student researchers:
"The Institute seems to have created a community of proper conversation, informed by a spirit of reciprocity. I was impressed to see the scholars expressing gratitude to their students, telling them 'I was really grateful to be able to entrust my writing to you, to hone, to reflect upon, to give feedback to.' The academy can be quite hierarchical in so many ways, but here we see students and scholars learning together, creating the beginnings of lifelong connections. And that is absolutely worth celebrating! I don't mean to embarrass them, but the scholars with whom these students work have obviously been extraordinary examples and inspirations to them. And the influence runs both ways."
After that 2019 visit, the Maxwell Institute's executive director, Spencer Fluhman, invited Rev. Dr. Teal to join the Institute as a visiting scholar. For Fluhman, Teal's visit presents a unique opportunity for Institute faculty and student researchers. "To have a scholar of Teal's stature among us is one thing. To have that scholar also be a man of profound faith and deep commitment to Christian discipleship is a gift for the entire campus. We are honored to call Andrew a friend and fellow-traveller. We look forward to deepening our association this fall."
While at the Maxwell Institute, Rev. Dr. Teal will work on an academic study of Joseph Smith as a Christian leader. He will also participate in events across campus, including speaking at the university forum on Tuesday, October 26.
---
To learn more about Rev. Dr. Teal and his work, you can listen to his conversation with Elder Holland from April 2020 on YouTube. You can also listen to a discussion with Rev. Dr. Teal on the Maxwell Institute Podcast Episode #97 from October 2019. To stay up-to-date on all Maxwell Institute news and publications, subscribe to our newsletter, watch our Twitter, Facebook, and Instagram profiles and subscribe to our YouTube channel.